ANA Financial Management conference 2022: Back in the room and back on track with new thinking
By Patricia McGregor
Managing Director of FirmDecisions Canada, Patricia McGregor, explores the highlights and key takeaways from this year's ANA Financial Management conference held in Orlando.
---
Challenging Times
"Disruptions in supply chains over the past 26 months haven't just included the pandemic and successive lockdowns, but also the sustained obstruction of the Suez Canal, weather shocks… the global energy crisis and Russia's invasion of Ukraine. Like it or not, we really do live in interesting times"

---
A couple of weeks ago, it was my very great pleasure to attend the ANA's annual Financial Management Conference in Orlando, Florida. Although I did attend the same event in person last year in Arizona, it was – by necessity – very much constrained by Covid and couldn't welcome even half the number of delegates who attended the 2022 event.
As the world opens up again, it was so good to be hearing and learning in the room from peers and innovators in the marketing procurement space.
The central theme and motif of this flagship conference was supplier diversity, and I was interested and impressed in equal measure by the many different perspectives on the topic shared at the event. For me, the other two dominant, recurring themes were the ongoing shifts in who controls the narrative between brands and consumers, and the critical importance of stability and transparency in advertiser-agency relationships.
These topics have been high on the agenda throughout the pandemic, and as we emerge on the other side, the conference gave us space to consider its impact on them. This was true both in content shared from the stage and from discussions with clients, partners, and agencies.
Supplier diversity
A number of speakers made strong and compelling business cases for enhancing supplier diversity; for driving growth through diversity. The ANA kicked the conference off with a recap of its recent diversity questionnaire, keen to underscore the potential brands can unleash if they properly engage with under-advantaged and under-represented communities in any supplier, from media vendors to tech platforms, from agencies to data providers. Groups addressed included women, people of color, and the LGBTQ+ community.
The debate on supplier diversity was encapsulated best by a panel discussion featuring representatives from PepsiCo, Target and Kellogg.
Christina Tyson, Supplier Diversity Director at PepsiCo

, argued from first principles – that there's a moral obligation to give representation and empowerment to diverse suppliers, which can directly help to address issues such as the on-going racial wealth gap. She made a powerful business case, showing that by supporting a community through your business, you not only drive growth but also enhance brand loyalty.

Karen Tobler, Supplier Diversity Lead at Target

, made the case that diverse suppliers foment innovation and connect better with a customer base. For Target – with a large, retail- and consumer-focused team – partnering with diverse suppliers who reflect and represent them is empowering. It comes full circle, for not only does the community benefit. Supplier diversity also reduces employee turnover. Working for a company that values "people like me" makes simple business sense.

And,

Debra Quade, Supplier Diversity Manager at the Kellogg company, made a very powerful business case for supplier diversity across the board. "Supplier diversity is very definitely a full page!" she enthused.
While it was inspiring to hear these great companies sharing their commitments to supplier diversity, it was encouraging to hear their strong business case for it. I'm optimistic that next year we'll be hearing an update on material gains that the broader marketing procurement community has made in this area.
Shifts in media and consumer control of the narrative
Turning to trends in the media, dentsu International's President of Global Solutions, Jeff Greenspoon, shared the results of two of his agency's research studies, separated by 18 years. His deft and entertaining presentation clearly demonstrated quite how much brand communication has changed in that period.
The 2003 study painted the picture of a brand-led world, where brands aimed to change behavior by the one-way narrative they pushed out to consumers.
By contrast, in 2021 brands have lost control of the narrative. This is in part the result of the dominance of social media, in part the massively-fragmented media landscape. These changes have been accelerated and exacerbated by Covid, of course – particularly in ecommerce and online shopping – but brands today are faced with the challenge of needing to convince consumers to opt into their brands and brand promises.
The pivot from sometimes tone-deaf monolog to an invitation to connect makes creativity and innovation more important than ever. The reality of this was underscored by the presentation of an excellent case study from the NFL. Their multi-screen strategy during major football games enables them to interact with consumers whichever screen or device they're using, underlining the growing importance of targeting and messaging overlaid on data and tech.
This focus on the shift in control of the narrative – from brands and media to consumers – made me reflect on the work we at FirmDecisions do to help brands keep their communications, measurement and validation, and media buying strategies up-to-date for the modern marketing ecosystem.
In such a dynamic environment, it's crucial that brands' commercial agreements are dynamic, too. This means regularly overseeing, reviewing, and adapting contractual clauses, and underscores the vital importance of taking a "trust but verify" approach. If you're looking to evolve and stay abreast of the quicksilver developments in media and marketing, you have to measure and validate those innovations.
The importance of stable agency-client relationships and defining value
Several speakers – client, agency, and consultancy-side – considered what the rapid state of flux in the ecosystem means for what brands define as "value" from their agency partners. This led to debate – from the stage, in panel discussions, and over coffee, lunch, and drinks – about agency selection and management.
When considering changing partners or evaluating agency performance, are advertisers asking the right questions? Critically, are brands considering the very real cost of change? Given the current climate and crisis in personnel and resourcing, they should reflect on the value there is to be had from building a stable relationship.
There's often a steep cost associated with change and, poorly-handled, this can incur serious, long-term cost. This is true even if you end up staying with an incumbent agency partner, particularly after a gruelling and cost-intensive review.
Speakers urged brands to consider carefully how they conduct searches for new partners; to think about flexible and nimble approaches for setting the right relationship – not just services available, but also cultural fit; and, the growing importance of not just quantifying and comparing media cost scores, but also finding relevant relationship "match markers".
It made me reflect on the enduring value of good governance, of contractual audits and validation. There's real value in stability, and good governance can help to minimize pain and opportunity cost for both advertisers and their agency partners.
Summing up
Supplier diversity, the loss of control in brand narrative and the enduring value of strong and stable agency partnerships were, for me, the overriding themes of the ANA conference. Doing business today can feel like firefighting, and the many road-bumps we've all been navigating in the pandemic years were best exemplified by a slide shared by Kate Short, Chief Procurement Officer at Nestlé (see below).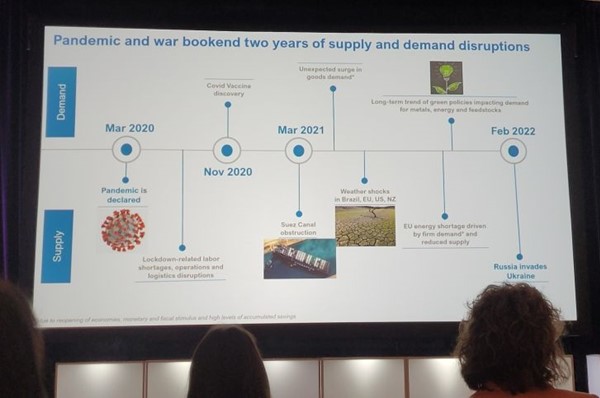 Disruptions in supply chains over the past 26 months haven't just included the pandemic and successive lockdowns, but also the sustained obstruction of the Suez Canal, weather shocks from Brazil to the EU, the US to New Zealand, the global energy crisis and Russia's invasion of Ukraine.
Like it or not, we really do live in interesting times, and wrenches are constantly being thrown into the best-laid comms, marketing, and innovation plans. To thrive and survive, we must be nimble, flexible and creative. And for me, being back in the room with peers and colleagues is an incredibly valuable way to fast-track this.
About the author
Patricia McGregor is Managing Director of FirmDecisions Canada, based in Toronto, Ontario. She joined from Publicis-owned Starcom in 2019, where she was SVP and Group Media Director, with personal responsibility for $750m in billings. Patricia has more than 20 years of senior agency experience, having held a variety of roles covering client management, strategy, and operations.
Stay Informed
Sign up here for the latest articles or follow us on linkedin