Measuring ROI in China's Influencer & Entertainment Market
By Greg Paull
With reality shows reaching 256 million viewers and influencers charging $50,000 per post, what are the opportunities and how do you measure ROI with no established standard of measuring performance?
---
Measuring ROI
"Pull Quote"

Despite the dynamism of China's influencer and entertainment market, it has become more challenging for marketers to measure the effectiveness and evaluate the ROI of investment as there is no established standard of measuring performance.
---
Collaborating with celebrities and sponsoring variety shows have become two integral parts of the communication strategies of Chinese marketers. According to AdMaster, 79% of brands increased their investment in digital marketing in 2019, with 21% of that investment directed at social promotion. Sponsorship and content marketing have maintained rapid and stable growth with a 16.1% higher margin in H1 2019 compared to the previous year.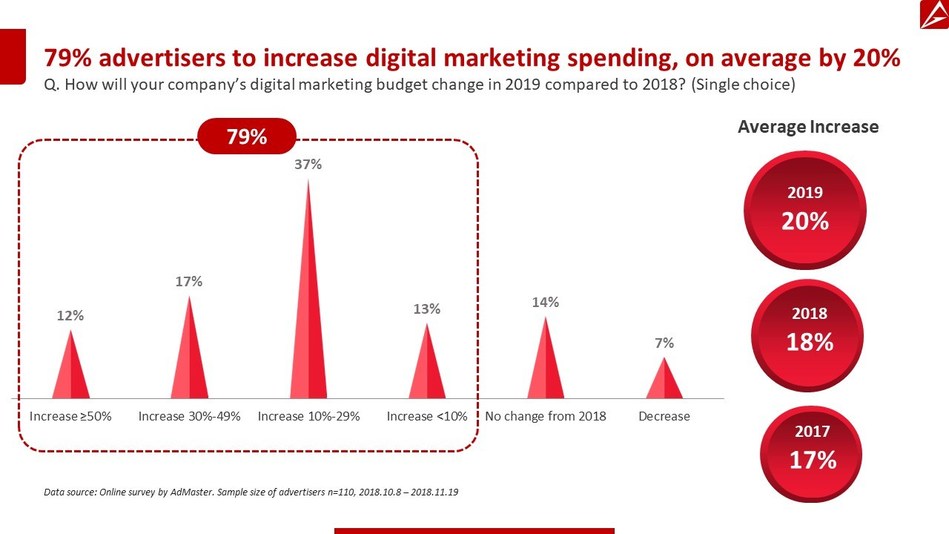 As such, R3 has set out to assess their effectiveness and analyze what contributes to the success of each strategy. With the trend of working with rising stars from idol contests and sponsoring variety programs serving niche interest now established, brands are looking for more opportunities to engage with targeted demographics. However, the challenge lies in getting the execution right and standing out in China's oversaturated communications environment.
Collaborating with Celebrities
The cult of celebrity is particularly strong in China and engaging celebrities and influencers with strong fan followings is an effective way for brands to connect with target audiences. This strategy can be used to promote the brand itself, its products or its services.
There are four key types of celebrity/influencer collaborations commonly used by Chinese marketers:
Brand Value + Celebrity DNA Deep Collaboration
Pinpointing an angle to tell your brand story that coincides with a certain unique attribute of the celebrity.
Product Endorsement with Unique Celebrity Angle
Leveraging vertical channels and platforms (digital/social) and certain celebrities' influence among a specific target group to achieve business goals.
General Brand Endorsement for Popularity Reinforcement
Typical form of celebrity endorsement where advertising somewhat creatively utilizes the image of the celebrity and tries to integrate the celebrity's role to promote a brand or product.
Simple Image Copyright Usage in Advertising
Using a well-known person and his/her fame in a range of mass communication materials to boost the brand awareness of the brand, but with little to no personal relationship with the brand or the product.
Ensuring Sustained Return on Investment
Regardless of what is being promoted, it is important for marketers to select the right influencer, as well as a type of engagement strategy that is aligned with their larger business goals. When it comes to collaborating with celebrities and influencers, the focus tends to be on what's popular, causing advertisers to miss valuable opportunities that are the result of breakthrough creative content, precision in targeting, and rapid responsiveness. Unfortunately, a lot of brands have failed in one, or all, of these important practices.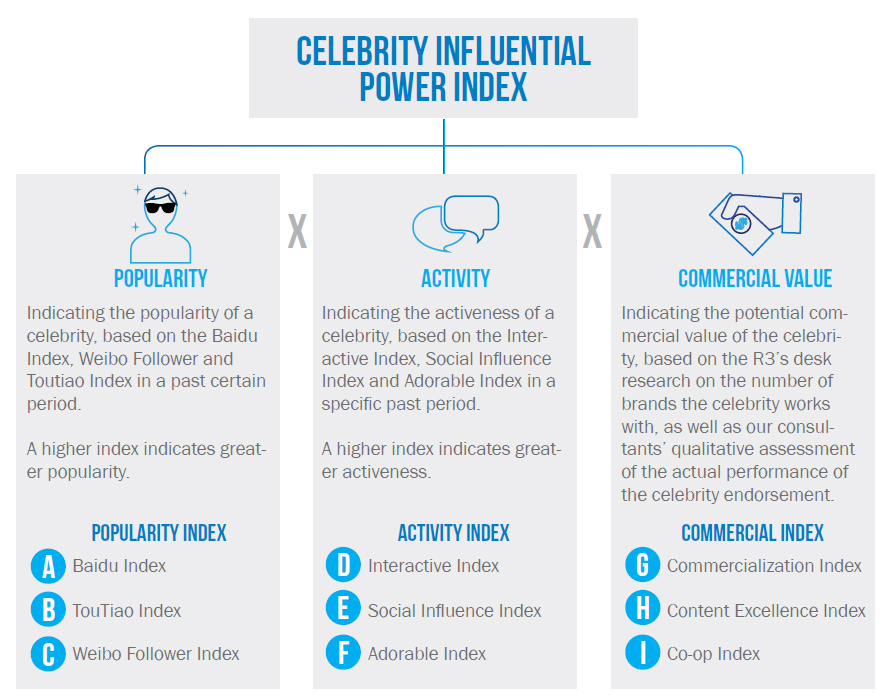 R3's Celebrity Influential Power Index looks at a celebrity's popularity, activity, commercial value, and social label.
By integrating a celebrity's identity into branded content creation, an opportunity is created to connect the brand to larger trending topics related to that content. This can be done by digging deep into a celebrity's interests in real life. Giving an on- and off-stage perspective of a celebrity shows authenticity and creates an even more authentic story for the brand.
---
Also by R3: Procurement: Marketing's first line of defence
---
Program or Variety Show Sponsorship
In addition to celebrity/influencer sponsorship marketing, Chinese brands are increasingly turning their attention to reality-based variety shows broadcast on satellite television and digital platforms. If successful, such programs can generate high levels of brand awareness with large audiences. According to the Ent Group, in a period of one week, 256 million viewers tuned into Tencent's idol show "The Coming One" while 237 million viewers watched "Chinese Restaurant Season 3" over the same period.
The variety show covers many topics – such as talent, sports, dating, travel, and cooking – and producers heavily rely on brand sponsorship and product placement deals to finance these series. The saturation in the number of variety shows in China has resulted in a decrease in production in H1 2019, however, the number of brands participating in each show has taken an upward trajectory. This is attributed to the ability for marketers to reach audiences with niche areas of interest and tailor their engagement strategy accordingly.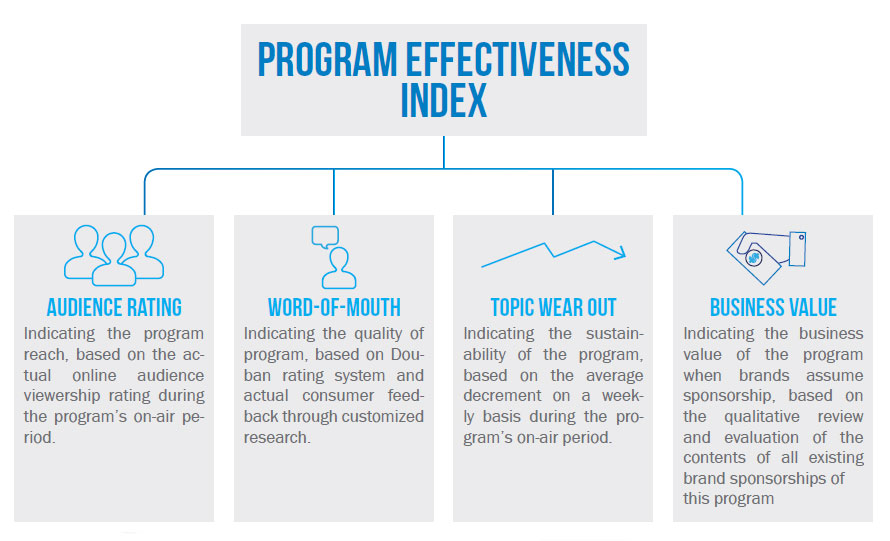 R3's Program Effectiveness Index ranks programs against each other to see which one yields the best results for brands.
In 2018, Snow Beer, the best-selling beer in China, wanted to introduce its 'Super X' beer to a generation of younger drinkers. The alcoholic brand found its fit in the variety program "Street Dance of China," which shared a similar target audience, tone and manner as Super X. This provided the brand more room to create experiences that felt authentic and in line with the overall approach of the program.
---

---
Popularity Leads to Rising Engagement & Sponsorship Fees
Foreign brands, particularly in beauty, cosmetic and luxury brand categories, have long employed celebrities and influencers to raise brand awareness in China. With the dominance of social media, however, engagement fees have become variable depending on platform (Weibo campaigns are 55 times cheaper than WeChat campaigns), number of follows and e-commerce sales. Chinese influencer Gogoboi commands US$50,000 per promotion message while Xiaoxiaobaomama, an influencer in the childcare category, could earn up to 30% of commission on product sales from her WeChat store that generates around US$11.5 million in sales each month.
The key players in sponsored variety shows in China are still predominately local brands, though international brands are starting to enter the market. VIVO, Yili, OPPO have occupied over 60% of the sponsorship of variety shows, and now international brands such as KFC, New Balance, Casio and Samsung have started to look for opportunities.
Producers, sensing demand in the market, have increased sponsorship fees significantly to the concern of marketers. Chinese talent survival show "Idol Producer" increased its title sponsorship by almost 250% in 2018, charging Nongfu Spring Vitamin Water US$16.8 million in the first season, and offering the same sponsorship for US$41.9 million in season two. The high price-tag is not without promise. Nongfu Spring Vitamin Water experienced a 500-fold increase in sales during its sponsorship of "Idol Producer."
From Trends-Based to Strategy-Centered Approach
Despite the dynamism of China's influencer and entertainment market, it has become more challenging for marketers to measure the effectiveness and evaluate the ROI of investment as there is no established standard of measuring performance. Advertisers need to turn the tactic of chasing trends into establishing a strategic approach that forms more long-lasting brand connections with target audiences. They can do this by applying three key considerations during stages of planning, execution, and conversion.
1/ Selection: Apply data wisely to decision-making
Assess brand value, image and perception
Understand the characteristics of influencer relationships and entertainment viewership
Determine the target audience,
Evaluate the fit and make predictions on performance.
Estimate and manage the budget within and outside the sponsorship itself.
2/ Integration: Maximize in-program and off-program exposure
Optimize the connection between your brand and the
Go the extra mile to build engagement.
Develop the right content for the right audience
Amplify the engagement across different social stratifications.
3/Measurement: Improve the visibility of Return on Investment
Define the return from a bigger perspective.
Identify the "waste" through the process.
Clarify the unique successful formula but not depend on it.
Stay Informed
Sign up here for the latest articles or follow us on linkedin
About the author
Greg Paull is principal and co-founder of R3 Worldwide, a global independent consultancy focused on driving transformation for marketers and their agencies
The views and opinions expressed are solely those of the contributor and do not necessarily reflect the official position of Marketing Procurement iQ or imply endorsement from the publisher.