Music Licensing in the US & UK – Two Countries Divided By A Common Language
By Richard Kirstein
The new second edition of Music Rights Without Fights guides marketing and marketing procurement through the complex web of music rights licensing, highlighting the key differences between US and UK/Europe practice.
Scope for Confusion
"there's considerable scope for confusion. In particular, "sync" generally refers solely to the composition / publishing rights in the US, but is an overarching term for both publishing and master rights in the UK"
Everyone loves music, that's why marketers want great tracks for their campaigns. But buying music is complex and few marketers or agencies truly understand how to broker licences with the music business.
In the new second edition of my book Music Rights Without Fights I guide marketing and marketing procurement executives through the complex web of music rights licensing, highlighting the key differences between US and UK/Europe practice.
The music licensing landscape for marketing communications continues to fascinate me after more than 25 years in the industry. Whilst there's relentless innovation with new platforms to engage consumers' attention, there are also unchanging constants: Music rights continue to baffle and challenge advertisers; and the process of clearing rights in commercially released music remains resolutely manual, relying on relationships with key executives at music publishers and record labels.
My education and experience in music rights licensing was primarily UK-based for the first 20 years of my career, both within a large music publisher and highly awarded advertising agency. There was the occasional opportunity to participate in US-based projects in which I noticed similarities but also key differences in terminology and practice.
It was clear that I needed to improve my understanding. In January 2017 I had the chance to partner with leading global Production Optimists Advertising Production Resources (APR) as their music rights management consultant, working across both US and EMEA client accounts. At times, the former presented a steep learning curve during which I was frequently reminded of the famous quote attributed to George Bernard Shaw:
"England and America are two countries divided by a common language".
 Having written Music Rights Without Fights in 2015 as a guide aimed at marketers in the UK and Europe, by 2018/19 it was clear I needed to update this for the US advertising market in which many aspects of licensing practice, terminology and copyright law differed from that across the Atlantic. I was extremely fortunate to secure the help of two esteemed US music attorneys: Kenneth B. Anderson, Partner, Rimon, P.C. and Tom Frederikse, Partner, Clintons. With their guidance and APR's support, the original text was revised to highlight market differences which frequently cause misunderstandings when UK and US executives work on the same deal. I'll highlight a few here:
Terminology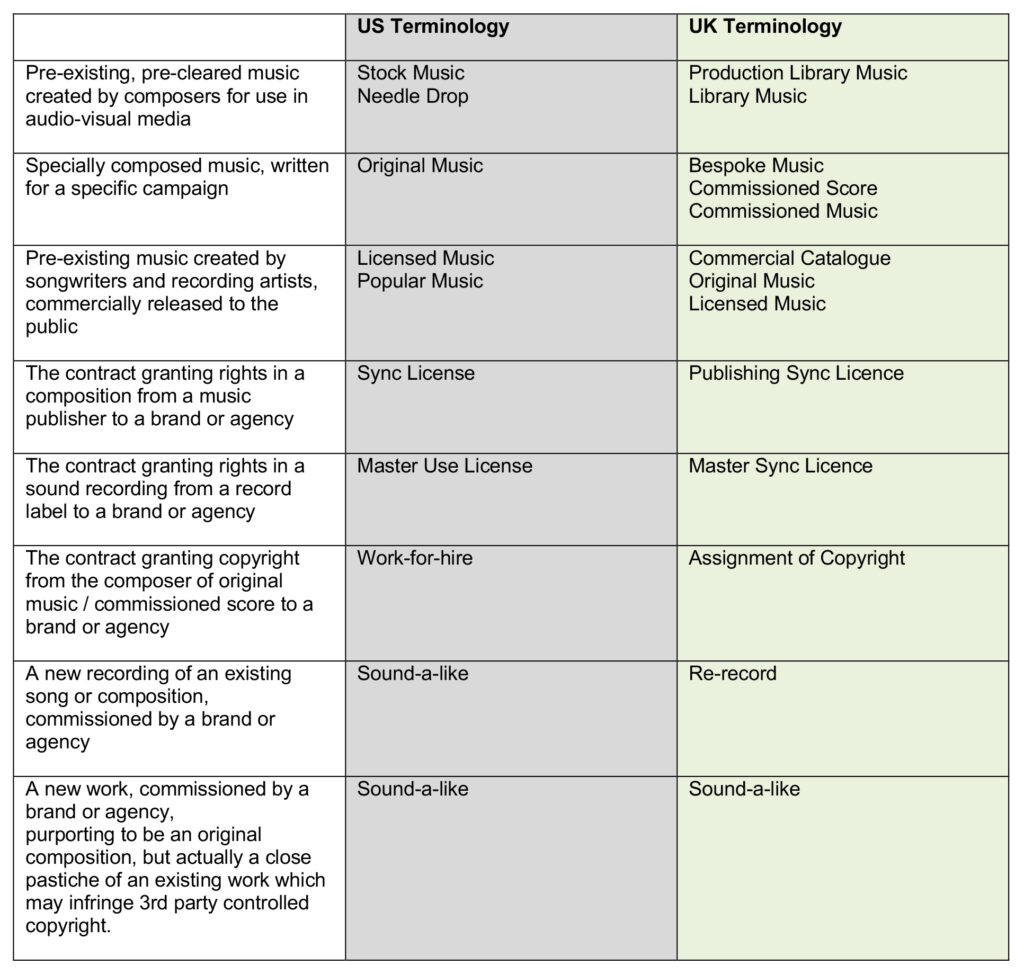 Whilst some of these differences related solely to spelling, there's considerable scope for confusion. In particular, "sync" generally refers solely to the composition / publishing rights in the US, but is an overarching term for both publishing and master rights in the UK. Hence in the US, people speak of "sync and master" which sounds odd from a UK perspective. Furthermore, the practice of some UK agencies referring to commercially released tracks as "original music" would confuse US executives. Evidence to support Shaw's assertion!
Copyright Law
Without a detailed legal analysis, it's still reasonable to suggest that US copyright law with respect to music is considerably more complex than that in Europe. In part this can arise from non-alignment of state and Federal legislation.
For compositions in Europe, generally speaking, copyright protection lasts until 70 years from the end of the year in which the composer died. Where there are multiple contributors, copyright lapses once the last composer has died. In the US, the period is similar except for work-for-hire compositions which can be 95 or 120 years depending on the circumstances.
For sound recordings, in the UK copyright protection lasts for 70 years from the date of commercial release. In the US, it depends on whether the recording was fixed before or after February 15, 1972. This distinction determines whether Federal or State laws apply although the Music Modernization Act (2018) sought to create a more level playing field.
The laws that define term of copyright are relevant to advertisers wishing to use old songs and recordings. In particular to those brand marketers who may be tempted to rely on their agencies' assurances of public domain status. This area is highly complex, fraught with risk and always requires expert support from music copyright specialists.
Rights In the Recorded Performance Of Vocalists and Session Musicians (on commercially released sound recordings)
In the UK, it's standard practice for record labels to grant master sync licences to brand and agencies which cover both the copyright in the sound recording and the recorded performances of vocalists signed to the record label. This is typically the lead singer and/or members of a band or group.
The key exclusions are the rights of session musicians or session singers which may need to be licensed separately from performer unions Musicians Union or Equity. The same model applies in Europe except that often all session musicians' and singers' rights have been fully bought out.
In contrast, US brands and agencies need to secure a "Vocal Consent" for lead and sometimes backing vocalists whose recorded performances are embodied in a commercially released sound recording. This is an additional right over and above the master use license granted by the record label, even if the lead vocalist was exclusively signed to the record label at the time of the recording. Such Vocal Consents often require payment of an additional fee to the vocalist or their estate.
In extreme cases, this can be at parity with the master use license fee paid to the label. Where the recording was made in the US under the SAG-AFTRA recording code, further payments called "residuals" may be due, determined by the relevant campaign media schedule. For session musicians, a similar model applies whereby residuals are payable to the American Federation of Musicians (AFM).
To complicate matters, US agencies and brands typically don't recognise the jurisdiction of UK performer unions when UK recordings are used in US campaigns. In contrast, UK major record labels licensing US recordings for use in UK campaigns insist that UK brands and agencies must pay additional fees to accommodate the rights of US performer unions. Some would argue this is not equitable.
If you're not already confused, I could go on to highlight the many differences between the UK and US in the public performance rights landscape. However, though I'll spare you that pain for a further post! In the meantime, if you want a copy of the new APR branded second edition of Music Rights Without Fights aimed at US marketers, get in touch at info@aprco.com or go to Amazon.com.
About the Author

Richard Kirstein is the Founding Partner, Resilient Music LLP. Richard is also the Music Rights Management Consultant at Advertising Production Resources (APR) and author of Music Rights Without Fights, an essential reference book for marketers and marking procurement professionals.
Music Rights Without Fights empowers advertisers to understand how music rights work, learn about key cost drivers and how to control them, identify risk and how to reduce it, improve bargaining positions, secure smarter deals and build sustainable relationships. For your copy, ask your APR contact or please email info@aprco.com.