A call to action for sustainability in production!
By Traci Dunne, Global Director of Industry Relations, APR
Sustainability is, rightly so, climbing high on client strategic agendas under the ESG banner – in many cases progressing from the morally-driven 'right thing to do' into a business imperative
---
Collaboration For Change
"Working together we can make a difference"
---
Photo: 'Traci Dunne (3rd from left) & the Ad Net Zero team including Ad Net Zero Chair Seb Munden (1st left)

The reality is that the climate crisis is a pressing issue for our industry and the entire human race, and so our attention for this article is going to focus on sustainability and how marketing organisations can set carbon reduction targets to support sustainable practices in media and production.
In order for marketing organisations to meet their organisational carbon reduction or Net Zero targets, Scope 1, 2 AND 3 emissions need to be measured, reported, and validated. As production consultants, we see it as our role to ensure clients are aware of their responsibility or their Scope 3 emissions. We help brand teams track their carbon footprint for production, set reduction targets, and execute a considered approach to tackling these important commitments to make change happen and to measure that change.
Data to drive behaviour change
The key to any carbon reduction strategy is data. As one of the founding members and investors in the AdGreen Project across the UK and US, we are delighted that the industry now has the ability to track and measure the carbon footprint of their productions and drive essential behaviour change via the AdGreen Carbon Calculator, developed specifically for Advertising Production. We foresee that the AdGreen calculator will play a key role as organisational target completion dates approach, and those who have embraced the use of a data tracking strategy, or early adoption of the AdGreen calculator, will find themselves in a more favourable position due to being able to obtain the data needed to satisfy reporting requirements.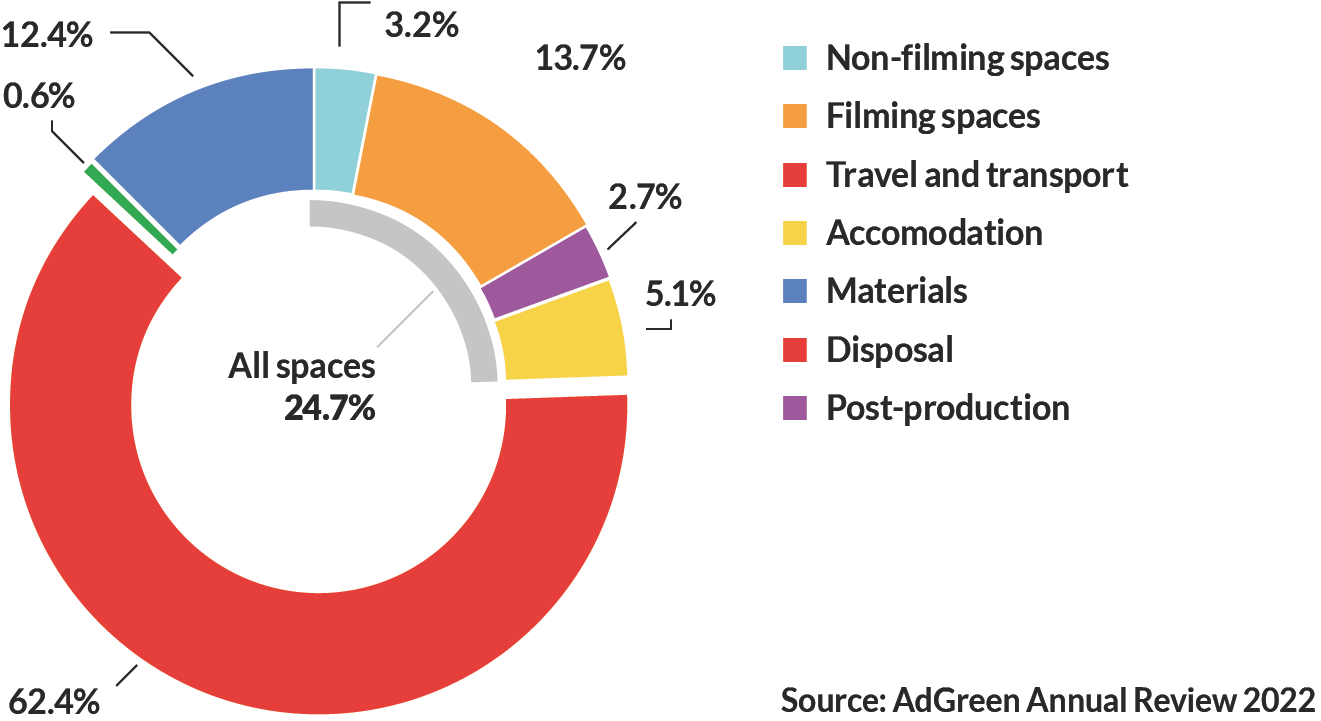 The aggregated data from the AdGreen calculator reveals that travel and transport continue to be, by far, the largest contributor to the carbon footprint of a production, which further supports our belief that fundamental behavioural change is required across our content creation processes. We should consider first the impact of the travel and transport to and from shoots before hopping on a plane, and take the necessary steps to minimize travel by paying close attention to the number of people we authorise to attend.
The data also shows that filming spaces – the studios and locations used for the production – as well as the materials used to build sets and the disposal of those materials (the waste) are other areas that can be influenced to reach sustainable production goals. We've got plenty of options to make a difference!
APR advocates for the use of the calculator across our client base to provide us with the data we need to create a carbon reduction strategy, and to drive crucial behavioural change amongst brand teams, their creative partners, as well as ourselves.
We also recognise the pivotal role the advertising and production industry must play in sustainability and agree that the creative sector has the capability to drive unprecedented industrial and societal change. This is best achieved via alignment behind the same mission. Getting involved with industry initiatives such as AdGreen, Ad Net Zero, Green the Bid and the UN sponsored initiative working to catalyze climate action through a radically new communications strategy; New Zero World, is where to start. APR encourages industry-wide adoption of these initiatives and actively supports the call to action to reduce the carbon impact of producing video and photography assets.
The opportunities our new reality presents Whilst there may be organisational alignment to implement sustainable practices in production, in reality, most brand teams and their agencies are at the beginning of their journey, often lacking the capabilities or knowledge around how to get started.
There is much work to do. As 'Production Optimists®' we have been advocating for sustainable production for around 20 years, but even we must admit that there is more that can be done beyond initiatives like reducing single use plastics on-set. Brands are turning to partners like APR to help navigate this complex area and we are seeing positive results in the work we do with our clients, such as:
• Defining the starting point and tracking data to reach targets
• Introducing, and maintaining Sustainable Production Programs
• Creating awareness & identifying behaviours during production that can be influenced and changed
• Training stakeholders in how to impact production operations, bidding, and capturing the carbon score
From more sustainable production practices on-set to developing a more progressive approach to location strategies, APR are actively working with our clients and the industry to push the boundaries of what is possible to reduce the carbon impact of advertising production, and we invite you to join us on this journey! R Traci Dunne, Global Director of Industry Relations, APR www.aprco.com
Sustainability: top tips to get you started
Below are some tips for those keen to get involved with this call to action, this is by no means an exhaustive list – but a good place to start:
1 – Production planning at the enterprise level: large scale production for TVC and other video is typically bid one project at a time. For the most effective results, it is critical to define a location and production buying strategy to ensure all options are considered, including shooting in volumetric stages, aka virtual production studios, to impact the production footprint and the bidding process.
2 – Eliminate "baked-in" carbon emissions during creative development: Shooting a scene on a snowy mountain slope halfway across the world could be re-imagined without sacrificing the quality of creative work. A focus on sustainability during creative development is necessary; thoughtful considerations, such as: "how will this creative idea impact the planet?"
3 – Considered Energy Choices: Opting for 100% renewable energy, when possible, is instrumental to carbon footprint reduction and cost-effective, too. Selecting electric or hybrid vehicles for transporting products, cast, and crew; sourcing hybrid or solar generators and having a no-idle policy are some options to consider.
4 – Bring Partners on the Journey: Driving behaviour change can be difficult and needs to be client-led. Reducing carbon emissions entails a thorough evaluation of the entire creative and production value chain. Unless brands are clear about what is expected of their creative partners, progress will be slow.
5 – Materials Selection & Rehoming; From small set designs to massive artificial environments, productions can leave behind a shocking amount of materials that could have been recycled or repurposed for further use. Unfortunately, many of these materials wind up in landfill. Consider how set pieces could be recycled for other campaigns or repurposed by local organisations for other uses (this can also often incur a tax break or other financial benefits in some regions). Consideration should also be given to sourcing recycled materials for set builds and props, which can help with disposal. Recycled materials are already naturally recyclable, so a circle of re-use is created.
6 – Offset carbon emissions as a last resort: After exhausting all means to achieve carbon neutrality in content production, carbon offsetting can be considered. But remember, offsetting is a short-term measure to be used on your carbon reduction journey and must have been phased out in order to hit a 'Net Zero' target (Carbon Neutral is the term generally used when offsetting is still being utilised for what cannot be reduced or removed). The cost of offsetting is usually much lower than expected and there are many partners to choose from; some more ethical than others; most industry associations will be able to provide a list of authentic, certified organisations.
About teh author
Traci Dunne, Global Director of Industry Relations, APR
Stay Informed
Sign up here for the latest articles or follow us on linkedin