Dragonfly AI: Implementation of AI in advertising and marketing
How do we effectively use AI to our advantage? Can we integrate it with our advertising and marketing efforts to drive performance, increase ROI and ensure creative quality?
---
Measuring Creative Impact
AI helps minimize wasted ad spend by measuring the creative impact before you publish, reducing guesswork as well as ensuring the media buy is maximizing the share of attention (SOA). 
---
By David Bonthrone
Implementation of AI in Advertising & Marketing
The founder of Unilever, Lord Leverhulme, said in the late 1800's; "Half my advertising is wasted, but I do not know which half".
In today's world we no longer wonder thanks to the power of AI in advertising and marketing. CPG companies specifically enjoy total visibility and data validation thanks to strategically utilizing predictive AI within their creative production processes.
Artificial Intelligence as an unknown did bring about a sense of apprehension for many but thanks to how effectively it has been commercialized strategists can integrate it seamlessly into their processes. There are now tools that help CMOs, and their agency partners optimize collective annual global production and media spend of almost $1 TRILLION*. 
The Landscape of Attention
More content in multiple formats is produced for deployment across an increasing myriad of media channels and evolving platforms. The average human's attention span has declined 50% in the last 20 years to 8 seconds due largely to the sheer amount of information. 
Attention has become a hot commodity, one that procurement needs to gain higher levels of effectiveness in a noisy environment. 
Predicting attention gives procurement the data they need to run faster creative testing that is not only more accurate but also increases velocity, reducing time to market. 
AI Drives ROI
AI can effect positive change to the tune of 10%, $100 billion can be saved annually.  Most of the use cases deliver anywhere from a 7% to 60% improvement, with an average uplift of 30%. 
It is therefore no surprise that senior procurement and sourcing executives are strategically looking at this space closely in order to deliver a greater return on the vast global budgets.
How is our AI solution so cost effective? 
Predictive attention analytics measure creative impact before publication, reduce the guesswork and ensure maximized share of attention which cumulatively minimizes wasted ad spend.
Furthermore, the cost of traditional creative testing is removed from the equation. Our platform can test countless creative assets across channels and environments with no increase in cost. 
The AI Solution
Dragonfly AI has developed a unique solution that predicts what the human eye will see within the first second of engaging with a piece of content. The algorithm is the result of over a decade of research conducted by the Queen Mary University of London which has been positively validated by the revered Massachusetts Institute of Technology+. 
It works for any content in any channel – that could be a packaging solution, some point-of-sale material, a banner ad, an outdoor ad, print ad or web page. It could also be how your brand looks on Amazon.com. Or increasingly, one of those many videos on TikTok.
The suite comes as an app, a browser extension and a more robust studio where agency teams and internal client teams can develop, evaluate, store and test up to 27 different design variations simultaneously. A/B test in an instant, optimize with ease and discover how your message is landing for your audience with these data insights. 
The technology applies a heatmap to a piece of content and instantaneously extracts subsequent insights which predict what the eye will see and what will trigger a reaction in the human brain. There are some benchmarks we have uncovered which help teams to produce more engaging content before significant production and supporting media costs are incurred. 
How Does it Actually Work?
We looked at the Marketing Procurement iQ home page to demonstrate how the data-driven tool works.
We instantly know that there are three areas that are commanding the most attention via a higher POP – probability of perception – defined as "the percentage of viewers likely to see an element at first glance". Those higher indexing areas are the main image screaming inflation, the headline and the website title.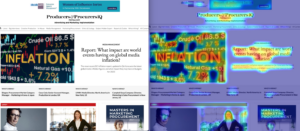 One can analyze this a little further and apply a grid to the image (below) which gives a quantifiable evaluation and confirms our observation with the inflation image (up to 100), the headline (98) and title (87) commanding the most attention. 
The image on the right applies a hot spot analysis to the webpage informing us there are three primary areas of attention. A benchmark guide is to have no more than 5 hotspots as the eye is incapable of fully registering those five hotspots at first glance.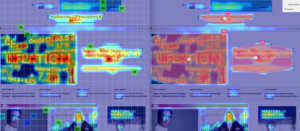 Why Dragonfly AI?
Dragonfly AI empowers your team to build a process that enjoys increased efficiency delivered by faster creative testing (vs traditional research methodologies such as panels) as well as more accurate creative testing. 
Additionally, increased velocity to reduce time to market (TTM) all of which saves $ on the front end and enhances revenue by getting to market faster. 
AI helps minimize wasted ad spend by measuring the creative impact before you publish, reducing guesswork as well as ensuring the media buy is maximizing the share of attention (SOA). 
AI also assists with team alignment by having a common set of metrics, allowing the initiative to be rapidly scaled across any channel with any content.
The use cases for a portfolio of leading brands have delivered:
60% increase in sales linked to instore promotions

40% of time saved in the design cycle

33% shift to a preferred payment method

25% online conversion increase within 3 months

17% revenue lift above the projected target. 
Build Success with AI
Allegedly the head of Sony some years ago said, "Research tells you what it is, not what it could be". AI gives you the data to tell you what, in this case, the eye is likely to see. It does not tell you what to do. We still need smart marketers to take those insights to test and refine the creative, optimize the production and help shape a media plan to deliver greater efficiency in marketing. 
Dragonfly AI gives you the tools to learn by understanding what is working. Empower your organization by sharing insights and knowledge and accelerate real time feedback to reduce friction across the creative production cycle for faster results of higher quality.
About

For more information contact  www.dragonflyai.co
To contact the author visit David Bonthrone
*Per eMarketer 2022
[s name="register"]